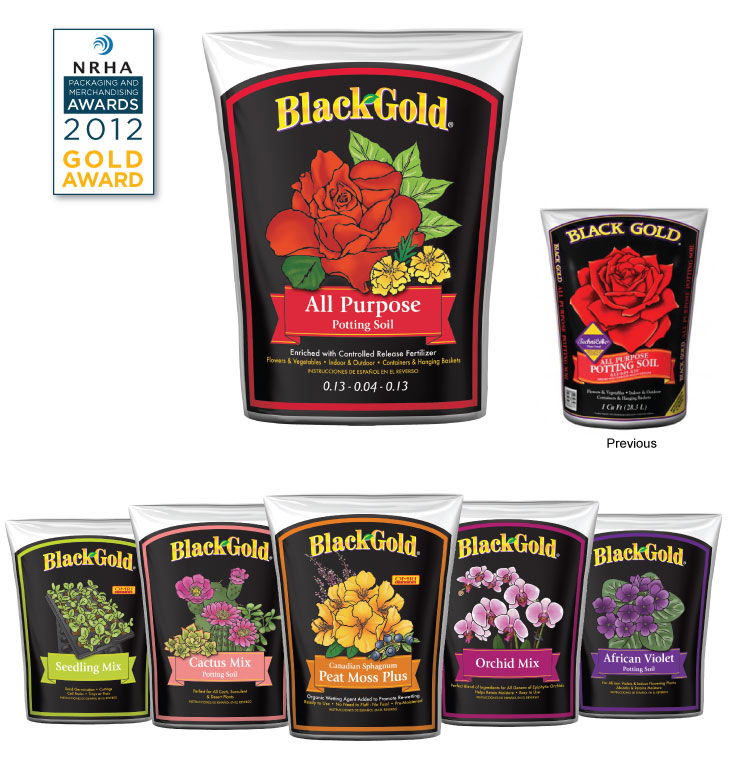 A trusted name in growing products since 1985, SunGro Horticulture is an expert in producing high quality garden amendments, potting soils and fertilizers. With a vision to expand their distribution of Black Gold Soils across North America, KenCreative was selected to update their packaging with a design that would promote their products as the company increased market share across the nation.
Though the existing packaging was dated, it was important to preserve some equity in the redesign to uphold their loyal customer base in the West. Therefore, with the challenge of designing 20+ products with 60+ SKU, KenCreative wanted each individual soil mix package to be eye-catching and characteristic to its use, while still unified across the line as a whole.
KenCreative created a redesign with strong product color-coding and an illustration dominated by one flower, and added a colored strip around the tombstone for easy identification. Other plants appropriate for the soil mixes were added on the package in order to differentiate between products and show the customer additional case uses. The plastic used for the bag was also upgraded to improve shelf impact and create more vibrant colors in the illustrations. This redesign received the NRHA Packaging and Merchandising Gold Award.